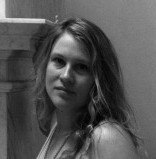 Melissa Ragain
MA & PhD University of Virginia
Assistant Professor Art History
Dr. Ragain's research interests include modern and contemporary art, criticism, and the history of science, especially psychology and ecology. She is currently at work on a book, Formalism and Environmental Aesthetics after WWII, examining the impact of art psychology on notions of form and environment in the postwar United States. She recently edited a collection of writing by the seminal new media theorist Jack Burnham, Dissolve into Comprehension: Writings and Interviews, 1964-2004 (MIT Press 2015).
She has written for Art Journal, X-tra Contemporary Art Quarterly, ARTLIES, Criticism, American Art and Inform magazine, and was a Core Critical Studies Fellow at the Museum of Fine Arts Houston in 2010-11. She is the recipient of grants from the Warhol Foundation/Creative Capital (2015) and a Radcliffe Institute for Advanced Study at Harvard (2016).
Her undergraduate courses include: Contemporary Art Since 1945, Art Now, Contemporary Art and Ecology, Public Art and Social Activism, and American Art Before 1913.
You may also view her works at :