The Lift Tower Public Art Project Dedication
December 9, 2013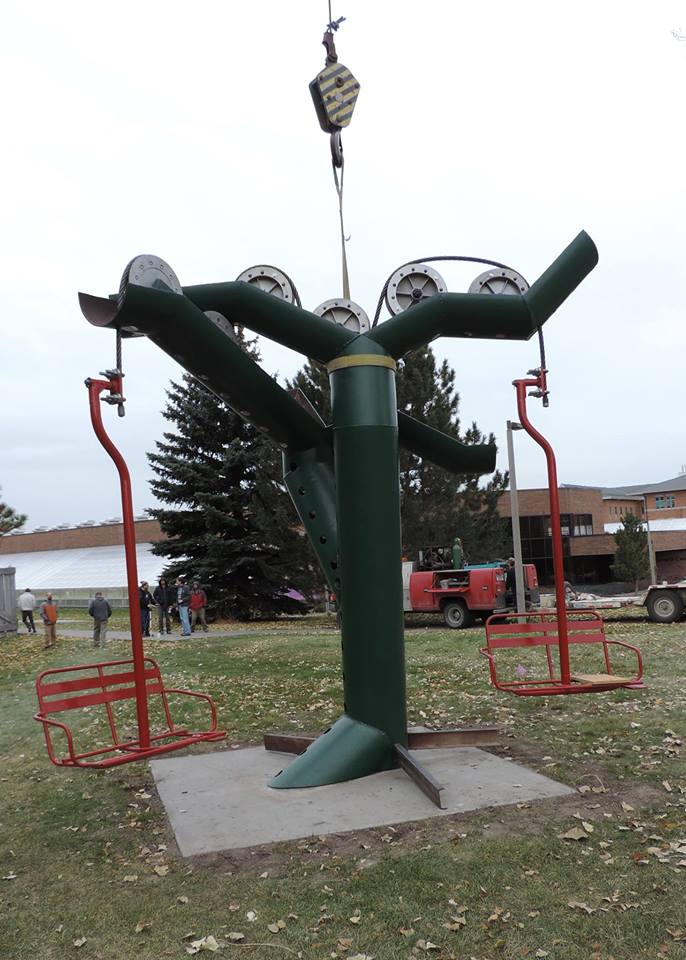 You are invited to the dedication ceremony on December 12th 4.00 pm on the front lawn of the School of Art. The dedication will be followed by a reception in The Helen E Copeland Gallery Haynes Hall.
Standing as tall as a fruit tree, Lift Tower's steel branches, painted Bridger Bowl green support two apple-red chairs. Whether muffled in snow, dripping with rain, or drenched in sun the Lift Tower is a compelling addition to Montana State University's campus and the last student sculpture to be added since 1978, when Jeff Boshart's Arctic Flight was installed.
The seed of the student sculpture competition from which Lift Tower grew began with the collaboration of The School of Art, Bridger Bowl, Chamberlin Productions and the Downtown Partnership.
"My interest is in public art," School of Art Director Vaughn Judge says. "So I was looking for a collaborative project that would bring together the community and the campus."
The result was a student competition that asked the question: What would you do with a ski lift tower that had to function as seating, offer an aesthetic and be related in some way to the Bridger Bowl Ski Area and its commitment to the environment.
Text by Michele Corriel