2023 Semester Abroad in Italy
Every spring, the School of Art offers its students in all areas the opportunity to study in Italy for the semester. The required, discipline-specific, coursework for the BFA and BA degrees (studio art, graphic design, art education, and art history) can make it difficult for our undergraduates to participate in study abroad programs. In response, the School of Art created study abroad semester in Italy almost twenty years ago.
This program provides an intensive and engaging studio and art history experience by immersing participants in the culture of Italy, with coursework led by their own professors and created to be integrated into their graduation schedule (most participants are in their junior year). The students present research projects on-site, work alongside Italian artists in studios and workshops created specifically for them, and then stage a group exhibition at MSU on their return. The art history courses at different places along the timeline depending on the professor, with the range including ancient Roman, Greek and Etruscan, Baroque, Neoclassical and Contemporary topics.
As part of our study abroad opportunity, We are pleased to announce our association with the M.A.D.E Accademia di Belle Arti Rosario Gagliardi, an officially accredited international-level academy of fine arts and design, which hosts our students and professors for studio/design courses in Siracusa, Sicily, as we work together at "the intersection of design, art, craft, and local cultural traditions."
---
Dates for Spring 2024:
Student check-in for orientation in Rome on Monday, February 12
MSU Spring Break is March 9-March 17 (student due back in housing Sunday, March 17)
Last day of class is Friday, May 3
Professors and Coursework:
(Dates may be subject to small adjustments before November 1, 2023)
The 2024 semester abroad consists of five courses, two design/studio, two art history and 1 field study course. The courses total 18 credits for the semester.
Professors Regina Gee and Dani Huvaere: February 13 - March 10
Etruscan, Greek, and Roman foundations (ARTH 375) 3 credits
Ancient Roman Imperial Monuments (ARTH 491) 3 credits
Instructor Bruce Barnhart March 19 - April 12
Interdisciplinary Storytelling in Italy (ARTZ 491) 5 credits
Field Study (ARTH 495) 2 credits
Professor Jeremy Hatch April 13 - May 5
Performative Sculpture (ARTZ 491) 5 credits
The semester begins in Rome with Professors Regina Gee and Dani Huvaere, who will teach two related art history courses exploring the Greek and Etruscan influences in Roman art and the topography of ancient Rome in a course titled "Imperial Monuments of Ancient Rome: Dynasty, Spectacle, and Propaganda." As part of the co-taught itinerary, students visit Venice, Florence, Naples, and Pompeii.
The second half of the semester, beginning after spring break will start the studio component Italy semester abroad program. Students will be working out of MADE The Rosario Gagliardi Academy of Fine Arts in the ancient city of Siracusa on the island of Sicily. Utilizing the facilities at MADE, students will engage with instructor Bruce Barnhart in the study of Interdisciplinary Storytelling, a course exploring ideas around art and design working in service to society. This study explores different strategies for using the power and diversity of art and visual communication to share compelling information and ideas with specific places and audiences, including the people of the local community.
Professor Jeremy Hatch will continue to explore the theme of art, society, and a cultural sense of place through the framework of puppetry. For well over 4000 years, puppetshave been used to relay myths, poke fun at political figures, comment on cultural events of the period, express moral stories, and entertain adults and children alike. While in Sicily, students will engage with the rich history of puppetry unique to the region (Opera dei Pupi), attending a performance at the Teatro dei Pupi, visiting the Pupi Museum and touring traditional puppet making workshops. Studio time will be centered around developing characters and working with a variety of materials and construction techniques to build puppets - culminating in a performance and exhibition.
Note: Students do not have to be a graphic design or a sculpture major to take these courses. The Italy semester coursework is designed (and evaluated for) students from different majors and levels of proficiency.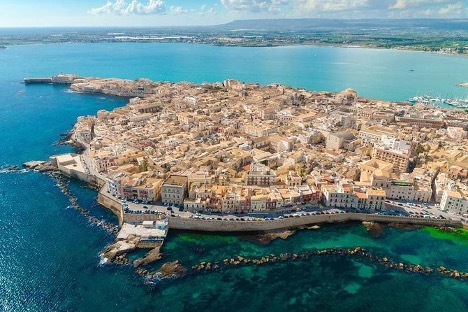 Ortigia, Sicily
Travel
Students are expected to make their own travel arrangements to and from Italy and also for any travel they wish do during MSU's Spring Break. Travel costs within Italy related to the course of study are paid for by MSU under the study abroad program fee.
Cost
Study Abroad Program fee: 8000.00
What it includes:
All lodging, ground and air transportation in Italy related to student participation in coursework, all museum and site admissions related to coursework, and some meals
MSU-required international travel medical health insurance (Geoblue) for the entire semester, which we will sign you up for as a group.
What it does not include:
Regular tuition (resident or non-resident) and fees (Registration, Computer, Distributed Learning, Art Program)
Your round-trip airfare to Italy, any travel you do on your own including Spring Break, optional group excursions, and meals besides those belonging to pre-arranged boarding agreements.
Tuition and Scholarships
Regular tuition, calculated as usual (in-state, out-of-state, scholarships, GI bill)
Financial Aid is also available and you apply with the same application and timeline you do when you are here. We have an example of how to fill out this form for the Study Abroad in Italy Program. Apply early!
There are two $1000.00 scholarships for Italy, and details for application will be discussed at the first orientation meeting, held in the fall.
For more information, contact Regina Gee, Faculty Program Coordinator at: rgee@montana.edu
To apply please fill out our application found here - Italy Application
Click here to view Study Abroad Italy brochure.